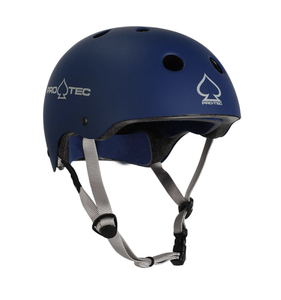 We're all about designing the most progressive gear on the market, and the Classic Certified Skate / Bike Helmet sets the benchmark in action sports protection. With multi-sport certification and Pro-Tec's unmistakable design, the Classic Cert offers performance-focused protection with an iconic style. Our durable but lightweight ABS shell and EPS liner combo provides top-of-the-line impact protection, while the nylon straps and buckle hold everything in place. The heat-sealed comfort liners ensure a snug but comfy fit. Plus, they are easy to remove and wash to keep things fresh. Since all of our products are designed, tested, and inspired by our team of elite skateboarders, you know the Classic Cert can help you take it to the next level.
From bowls to half pipes, from skate parks to backyards, Pro-Tec has spent the last 4 decades listening to the needs of skaters all over the world, in order to create the best protection available, period. The Pro-Tec Classic Certified draws its line of design right back to our original helmet model, but with all the latest technology we've pioneered over the last 40 years.
The Classic Certified is equipped with EPS foam and is multi-certified for CPSC, CE, ASTM and AS/NZS 2063:2008. The protective industry jargon in that last sentence means a massive machine smashed this helmet against an anvil in a scientific setting to prove to the world it will keep your precious dome safe when you slam.
SHELL • High-Impact ABS offers durable, lightweight protection
LINER • EPS foam lining adds top-level impact protection
VENTS • 11 open vents allow airflow to keep your head cool
INTERIOR • Heat-sealed comfort pads are soft and easy to wash
FIT • 6 sizes - XS, S, M, L, XL and XXL
CERTIFICATIONS • ASTM 1492, CPSC 1203, AS/NZS 2063:2008, CE 1078